Residences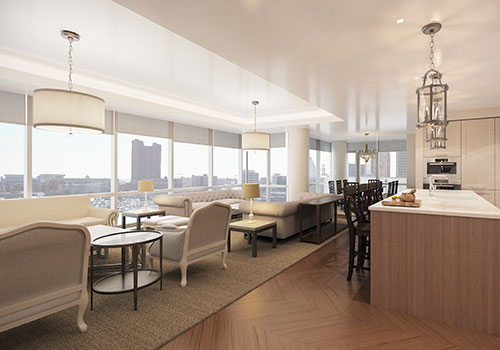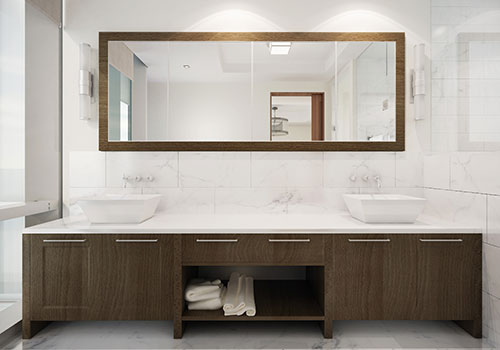 The feeling of home should evoke both a sense of comfort and style. Enlisting the assets of a world-renowned architecture and interior design firm, and crafted from the finest materials, your exquisite living space will delight with unrelenting attention to detail and sophistication. Add your own finishing touches, and you will have a space you are proud to call "home."

Form and function, thoughtfully fashioned for comfort, relax in a luxurious space of timeless elegance and simple beauty. Relish in the classics of wall-to-wall maple flooring, natural marble countertops and solid wood trim that beckons both the hand and eye. Spoil yourself in the conveniences of modernappliances and brighten each day with cutting edge technology that transforms your home into a sanctuary.
---
Amenities
Concierge services: Daily life is enhanced with confidence in knowing that Four Seasons is on hand to manage every detail. A dedicated Residential Concierge. Packages not merely accepted but delivered to your door.

Concierge services

---
Valet services: Realize the promise of every moment. By providing ample amenities and extraordinary service, Four Seasons Private Residences Baltimore offers you the ultimate luxury: time to spend as you please. Valet parking for you and your guests, doorman and bellman services.

Valet Service

---
Fitness Center: Enjoy everything you love about Four Seasons. As a resident, you'll experience legendary Four Seasons service and care in the privacy of home. Private fitness and health center as well as rooftop swimming pool and sundeck. Enjoy a relaxing workout in the private yoga room.

fitness center

---
A HOST OF AMENITIES FROM A WORLD-RENOWNED HOST.
Explore
Location
Every city has its favorite neighborhood.
Welcome to Baltimore's Harbor East. Before you: the soaring iconic skyline of the sparkling Inner Harbor. Behind you: the perennial enticements from the legendary streets of Fells Point. And all around you: A vibrant neighborhood of historic charm and progressive energy that offers a wealth of culture and excitement. Streets lined with amenities to satisfy any taste. From one-of-a-kind boutiques to premier fashion brands; from award-winning restaurants to casual eateries; from coffee shops to wine shops; from galleries to groceries – all told, purveyors of the goods and services that contribute to effortless living.